Office of

Gift Planning
Maximize your philanthropic goals
Make a difference in people's lives and always be remembered for your contribution

Benefit yourself, your family and Auburn University with your planned gift

Help us fulfill our mission for many years and generations to come
---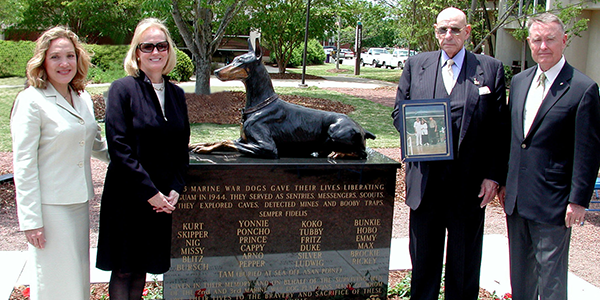 Betsy Putney
For Betsy Putney, giving a gift to Auburn was not motivated by her years as a student at Auburn. Instead, the University of Tennessee graduate's motivation stemmed from her wanting to honor her late husband, Dr. William W. Putney.
---
"After my husband passed away, I was concerned where our estate would end up. I looked around and thought, 'You know - give back to where you got the most happiness – that was Auburn.'"
---
Dr. Putney graduated from Auburn in 1943 from the College of Veterinary Medicine. Following graduation, he was assigned to the Marine Corps' War Dog Training School. In 1944, he led the dogs into combat in the invasion of Guam where they were credited with saving hundreds of American lives. His work with the war dogs inspired the book Always Faithful. (ISBN #9781574887198)

After the passing of her husband, Betsy was concerned about how their estate would be distributed since there was no immediate family. That is when she thought of Auburn. Betsy's estate gift, in honor of her husband, will have a huge impact on the future of the College of Veterinary Medicine, its students, and its programs.

"I think he would be proud," says Betsy. "Auburn meant a lot to him. He made a lot of friends here and had a lot of good memories.".
Contact the Office of Gift Planning for additional information or to discuss further the different options for including Auburn in your estate plans.
It is always advisable to seek the advice of a financial or legal advisor. Please refer your advisor to our Advisors section for more information.
When including Auburn in your estate or charitable plans, please use our legal name and mailing address:
Auburn University Foundation
317 South College Street, Auburn, AL 36849
Federal Tax ID number: 63-6022422
If you have already included Auburn in your estate plans, please let us know so we may provide you with information for including you in the
George Petrie Society
.