Office of

Gift Planning
Maximize your philanthropic goals
Make a difference in people's lives and always be remembered for your contribution

Benefit yourself, your family and Auburn University with your planned gift

Help us fulfill our mission for many years and generations to come
---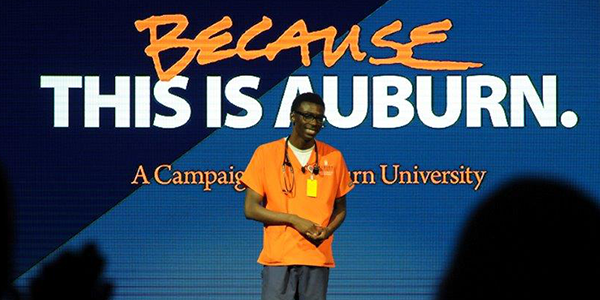 Jeremy Ellis, School of Nursing Student
For junior nursing student Jeremy Ellis, there's no denying that his path towards a college education has been tough. As a child, Jeremy experienced a challenging home environment that saw him bouncing between parents and states until age 11 when he ran away to live with aunt. At a young age, Jeremy also endured open-heart surgery, and during his senior year of high school, he had to return to the hospital because of recurring heart complications.
---
"Giving really does make a difference in the life of a student. I will never forget who gave me this opportunity. "
---
"The care I experienced with my nurses was key; I just saw nurses as superheros," he says. His experience in the hospital sparked an interest in nursing, but he knew a college education was out of his reach financially. No one in his family had ever been to college, and no one thought he could handle the rigorous curriculum of nursing school.

But they didn't count on Jeremy's determination. He gained acceptance to Auburn's School of Nursing and also became the recipient of the Bertha L. Watkins Endowed Scholarship – a scholarship created by Bertha's sons, Larry '57 and the late William C. "Wick" '56, to honor their hard-working mother. Wick also included additional funds through his estate plans to enhance funding for the scholarship.

"I am grateful every day for the opportunity to be here, "Jeremy says. "Giving really does make a difference in the life of a student. This has helped me, and I want to help someone else. I will never forget who gave me this opportunity. As soon as I get my first nurse anesthetist check, I'm going to start giving back to Auburn."
Contact the Office of Gift Planning for additional information or to discuss further the different options for including Auburn in your estate plans.
It is always advisable to seek the advice of a financial or legal advisor. Please refer your advisor to our Advisors section for more information.
When including Auburn in your estate or charitable plans, please use our legal name and mailing address:
Auburn University Foundation
317 South College Street, Auburn, AL 36849
Federal Tax ID number: 63-6022422
If you have already included Auburn in your estate plans, please let us know so we may provide you with information for including you in the
George Petrie Society
.